By the Collective Leadership Institute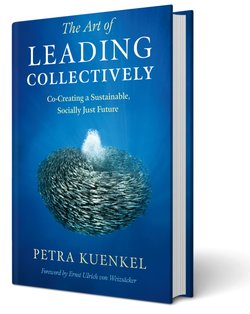 A guide to collaborative impact for leaders in industry, government, and social change networks
Our world is facing unsustainable global trends—from climate change and water scarcity to energy insecurity, unfair labor practices, and growing inequality.  Tackling these crises effectively requires a new form of leadership—a collective one.  But, in a world of many silos, how do we get people to work together toward a common goal? That is one of the most important questions facing sustainability and social-change professionals around the world, and it is a question that Petra Kuenkel answers in The Art of Leading Collectively. 

Kuenkel provides a clear roadmap for leaders from multinational companies involved in partnerships, international organizations engaged in cooperative development, public agencies, and interest groups—as well as for citizens seeking solutions to social and sustainability challenge
- See more at: http://www.chelseagreen.com/the-art-of-leading-collectively#sthash.rl1K987t.dpuf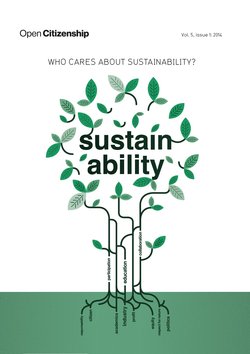 Understanding how to engage stakeholders for sustainability boils down to the question: Why should we or others care about sustainability?
The abstract concept only becomes real and personal when it affects something of interest to us. Such interests vary from trivial to profound. My neighbour, for instance, just gave birth to her first-born and is concerned about how to raise him in a sustainable future. A friend in New York has started to fight climate change because she suffered from the abnormal, brutally cold weather at the beginning of this year. One of my work colleagues developed a new concept for work-life balance for her team in order to decrease staff turnover and contribute to the social sustainability of her organisation. They all have a very tangible stake in a sustainability issue. In other words, they are stakeholders of sustainability. And in some way or another, we all are. But when do we choose to act on our stake? (Published in OpenCitizenship: Who Cares About Sustainability? Vol. 5, 2014)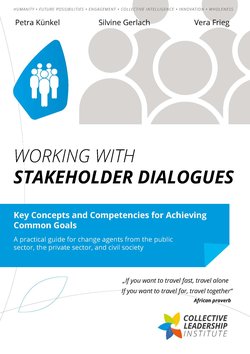 Working towards a more sustainable world requires bringing together differing world-views and balancing conflicts of interests for responsible business, people-oriented public service and a strong civil society. Stakeholder Dialogues are a methodology for the design and implementation of consultation and cooperation processes that are built on the inclusion and integration of different interest groups. Such a collaborative approach requires new competencies for globally and locally responsible leaders.
Based on the Collective Leadership Institute's experience in process support and capacity building, the practical guide Working with Stakeholder Dialogues supports you in planning, implementing and evaluating successful and result-oriented consultation and cooperation between different stakeholders.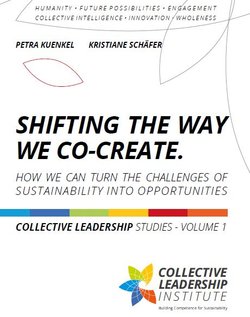 In May 2012, the Collective Leadership Institute started a research project to explore the factors and patterns that help engender a collective way of leading for sustainability. For this purpose, we interviewed practitioners from the private sector, the public sector, and civil society who brought forward essential steps in sustainable development. We wanted to know how they built committed teams both within and across organisational boundaries. How did they manage to integrate different organisational cultures into joint initiatives and foster collaboration between diverse stakeholders?
In this brand new study, published in November 2013 we share with you the findings of our leadership journey. Enjoy!
In 2011 the Collective Leadership Institute developed a manual on Stakeholder Dialogues for the Sector Project Private Sector Cooperation and Corporate Social Responsibility (CSR) of the Gesellschaft für Internationale Zusammenarbeit (GIZ) GmbH. It serves as a practical how-to guide to approaching cross-sector collaboration and stakeholder engagement.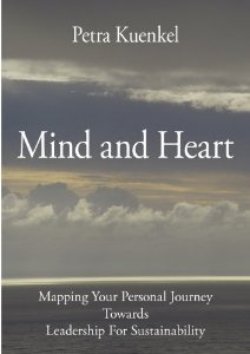 This book shows how leaders can use life and leadership experience to make a more meaningful contribution to the world It leads us into the inner world of leadership that we often tend to deny: the intuitive insight that at the core of our leadership journey is our contribution to the collective evolutionary process. What if we all knew the place within that is at home with the universe? What if we all knew how it feels to tend the common, the very force that nurtures all of us?
Building on her own leadership journey and intensive conversations with 14 leaders from eight different countries around the world, Petra Kuenkel, founder and executive director of the Collective Leadership Institute shows how we can reconnect with the deeper theme of our journey and develop our own humanity as a gateway to leadership for sustainability.
Petra also invites you to follow her blog on Living Collective Leadership .
External publications
To better understand the renewed hope, future prospects and potential pitfalls of Collaborating for a Sustainable Future, SustainAbility and GlobeScan surveyed 800 global experts in 74 countries representing business, government, NGO and academic perspectives. They asked respondents for clues to a blueprint for the most effective forms of collaboration, how business should (and in reality, would) approach governments to address sustainability issues, and the most valued attributes of a collaboration partner.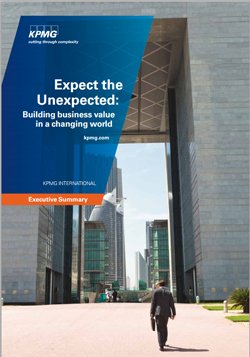 In this report, KPMG's network of firms analyzes a system of ten sustainability megaforces that will impact each and every business over the next 20 years. These forces do not act alone in predictable ways. They are interconnected. They interact.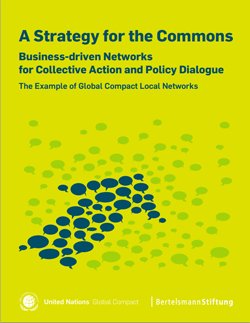 Business-driven Networks for Collective Action and Policy Dialogue
"A Strategy for the Commons" is one of the first publications illustrating how the Global Compact Local Networks can inspire action to bring the sustainability agenda to a new level. In particular, this publication explores ways in which collective action and policy dialogue are initiated and sustained by Local Networks. It is ecouraging to see a range of examples of our Local Networks mobilizing business action around sustainability issues.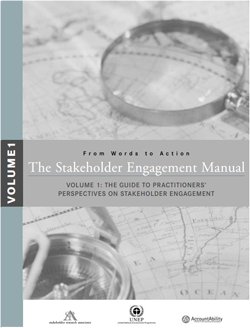 This Guide to Practitioners' Perspectives on Stakeholder Engagement and its sister volume The Practitioner's Handbook on Stakeholder Engagement (AccountAbility et al, 2005) are the result of UNEP's interest in producing a best practice guide to stakeholder dialogue, with the broader aim of promoting the use of staekholder engagement worldwide as a way of advancing sustainable development goals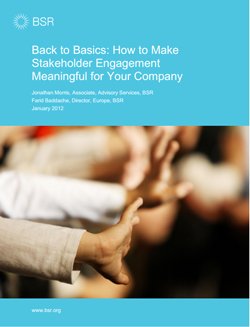 To help companies get back to the basics, we have published this report to guide internal discussions on tools and approaches to stakeholder engagement. Use this document as a starting point when approaching stakeholder engagement for the first time, or as a refresher when revising a current engagement strategy.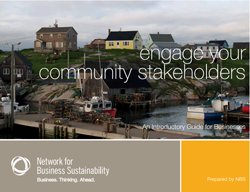 This report is designed to help decision-makers at companies of every size establish strategies for engaging community stakeholders. It provides a step-by-step guide to developing a strategy appropriate to your company's stakeholders and business objectives. Learn about key issues, and then use four key exercises to ensure your strategy is practical and clear.
Print this page